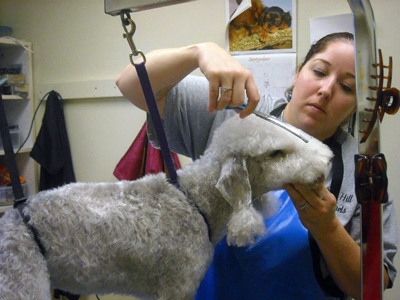 Grooming is an important part of every pet's life. With a high degree of care, love, and attention to detail, Day Hill Kennel's staff of professional dog groomers is well equipped to provide your dog or cat with all of its grooming needs. We offer regular baths, oatmeal shampoos for sensitive skin, as well as flea and tick baths. We are also skilled at dematting, brushing, and stylizing haircuts. Additionally, all of our pet grooming services include nail trimming.
Regular brushing helps with the removal of dead hair and dirt and also prevents matting. By stimulating the blood supply to the skin, dogs and cats who are regularly groomed by professionals tend to have healthier, shinier coats. Fortunately, dogs do not need to bathe as often as people, but you do need to learn how much grooming your pet actually needs and keep it on a schedule. Generally, a dog's grooming needs depend on the breed and hair type. If your dog has a skin, ear or nail condition, follow your veterinarian's instructions regarding grooming your dog.
Pet grooming services are available for all guests during their stay with us, as well as by appointment Monday-Saturday. The cost will vary based on the animal's coat, condition, and temperament.